Zoekt u live muziek voor uw bruiloft, bedrijfsfeest of ander evenement?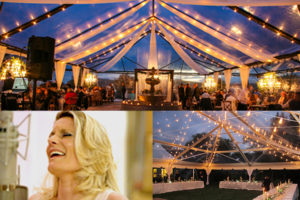 Met haar mooie stem zorgt zangeres Martine Fleming voor een mooie, muzikale omlijsting van uw bruiloft, jubileum, diner of ander feest. Martine Fleming zingt haar eigen werk én daarnaast heeft ze een uitgebreid repertoire met bekende coversongs van vroeger en nu.
En met haar dienst 'Song of a Lifetime' schrijft ze ook persoonlijke songteksten op bestaande liedjes, die ze vervolgens live zingt bijvoorbeeld tijdens een huwelijksceremonie, jubileum of ander evenement.
Martine treedt op bij uiteenlopende evenementen, feesten en andere gelegenheden. Ze heeft een breed repertoire, met bekende nummers van vroeger en nu en qua nummerkeuze voor een optreden houd ze zo mogelijk rekening met de setting en het publiek, zodat de muziek ook mooi aansluit.
Martine speelt zowel in duo-formatie als onder begeleiding van een band. Live muziek dat qua sfeer en sound precies past bij uw wensen dus.
Hieronder een paar filmpjes van live optredens en een aantal van de vele nummers die Martine onder begeleiding van Marietta of met haar band live voor u zingt.
Op het repertoire staan onder meer de volgende nummers:
– Midnight Train to Georgia – Glady Knight & The Pips
– Chain of Fools – Aretha Franklin
– Superstition – Stevie Wonder
– Valerie – Amy Winehouse
– What's Love got to do with it – Tina Turner
– You've got a friend – Carole King
– Ain't no sunshine – Bill Withers
– Street Life – Randy Crawford
– Super Duper Love – Joss Stone
– For once in my Life – Stevie Wonder
– To make you feel my love – Adele
– Let me entertain you – Robbie Williams
– Ain't nobody – Chaka Kahn
– Signed Sealed Delivered – Stevie Wonder
– Zij gelooft in mij – André Hazes
– My love is your love – Whitney Houston
– Uptown funk – Mark Ronson feat. Bruno Mars
– Waiting on the world to change – John Mayer
– Don't you worry about a thing – Stevie Wonder
– Ariane Grande – Break free
– Treasure – Bruno Mars
Kortom, zoekt u mooie live muziek voor uw bedrijfsfeest, bruiloft of ander evenement? Klik hier om Martine te boeken of voor meer informatie